Strict Standards
: Non-static method View::getInstance() should not be called statically, assuming $this from incompatible context in
/home4/nerdolog/public_html/projectserv/concrete/models/area.php
on line
53
Strict Standards
: Non-static method Cache::get() should not be called statically, assuming $this from incompatible context in
/home4/nerdolog/public_html/projectserv/concrete/models/area.php
on line
121
Strict Standards
: Non-static method Cache::key() should not be called statically, assuming $this from incompatible context in
/home4/nerdolog/public_html/projectserv/concrete/libraries/cache.php
on line
111
Strict Standards
: Non-static method PermissionsCache::exists() should not be called statically, assuming $this from incompatible context in
/home4/nerdolog/public_html/projectserv/concrete/models/permissions.php
on line
212
Strict Standards
: Non-static method PermissionsCache::getIdentifier() should not be called statically, assuming $this from incompatible context in
/home4/nerdolog/public_html/projectserv/concrete/models/permissions.php
on line
15
Strict Standards
: Non-static method PermissionsProxy::get() should not be called statically, assuming $this from incompatible context in
/home4/nerdolog/public_html/projectserv/concrete/models/permissions.php
on line
218
Strict Standards
: Non-static method PermissionsCache::exists() should not be called statically in
/home4/nerdolog/public_html/projectserv/concrete/models/permissions.php
on line
69
Strict Standards
: Non-static method PermissionsCache::getIdentifier() should not be called statically in
/home4/nerdolog/public_html/projectserv/concrete/models/permissions.php
on line
15
Strict Standards
: Non-static method PermissionsCache::getObject() should not be called statically in
/home4/nerdolog/public_html/projectserv/concrete/models/permissions.php
on line
70
Strict Standards
: Non-static method PermissionsCache::getIdentifier() should not be called statically in
/home4/nerdolog/public_html/projectserv/concrete/models/permissions.php
on line
45
Strict Standards
: Non-static method PermissionsCache::add() should not be called statically, assuming $this from incompatible context in
/home4/nerdolog/public_html/projectserv/concrete/models/permissions.php
on line
221
Strict Standards
: Non-static method PermissionsCache::getIdentifier() should not be called statically, assuming $this from incompatible context in
/home4/nerdolog/public_html/projectserv/concrete/models/permissions.php
on line
52
Strict Standards
: Non-static method PermissionsCache::exists() should not be called statically, assuming $this from incompatible context in
/home4/nerdolog/public_html/projectserv/concrete/models/permissions.php
on line
212
Strict Standards
: Non-static method PermissionsCache::getIdentifier() should not be called statically, assuming $this from incompatible context in
/home4/nerdolog/public_html/projectserv/concrete/models/permissions.php
on line
15
Strict Standards
: Non-static method PermissionsCache::getObject() should not be called statically, assuming $this from incompatible context in
/home4/nerdolog/public_html/projectserv/concrete/models/permissions.php
on line
213
Strict Standards
: Non-static method PermissionsCache::getIdentifier() should not be called statically, assuming $this from incompatible context in
/home4/nerdolog/public_html/projectserv/concrete/models/permissions.php
on line
45
Strict Standards
: Non-static method Cache::get() should not be called statically, assuming $this from incompatible context in
/home4/nerdolog/public_html/projectserv/concrete/models/collection.php
on line
653
Strict Standards
: Non-static method Cache::key() should not be called statically, assuming $this from incompatible context in
/home4/nerdolog/public_html/projectserv/concrete/libraries/cache.php
on line
111
Strict Standards
: Non-static method Area::getOrCreate() should not be called statically in
/home4/nerdolog/public_html/projectserv/concrete/models/block.php
on line
63
Strict Standards
: Non-static method Area::get() should not be called statically in
/home4/nerdolog/public_html/projectserv/concrete/models/area.php
on line
153
Strict Standards
: Non-static method Cache::get() should not be called statically in
/home4/nerdolog/public_html/projectserv/concrete/models/area.php
on line
121
Strict Standards
: Non-static method Cache::key() should not be called statically in
/home4/nerdolog/public_html/projectserv/concrete/libraries/cache.php
on line
111
Strict Standards
: Non-static method Cache::get() should not be called statically in
/home4/nerdolog/public_html/projectserv/concrete/models/block.php
on line
67
Strict Standards
: Non-static method Cache::key() should not be called statically in
/home4/nerdolog/public_html/projectserv/concrete/libraries/cache.php
on line
111
Strict Standards
: Non-static method View::getInstance() should not be called statically, assuming $this from incompatible context in
/home4/nerdolog/public_html/projectserv/concrete/models/page.php
on line
135
Strict Standards
: Non-static method Loader::element() should not be called statically, assuming $this from incompatible context in
/home4/nerdolog/public_html/projectserv/concrete/libraries/block_view.php
on line
57
Strict Standards
: Non-static method Loader::db() should not be called statically, assuming $this from incompatible context in
/home4/nerdolog/public_html/projectserv/concrete/models/collection.php
on line
424
Strict Standards
: Non-static method Loader::db() should not be called statically, assuming $this from incompatible context in
/home4/nerdolog/public_html/projectserv/concrete/models/area.php
on line
435
Strict Standards
: Non-static method PermissionsCache::exists() should not be called statically, assuming $this from incompatible context in
/home4/nerdolog/public_html/projectserv/concrete/models/permissions.php
on line
212
Strict Standards
: Non-static method PermissionsCache::getIdentifier() should not be called statically, assuming $this from incompatible context in
/home4/nerdolog/public_html/projectserv/concrete/models/permissions.php
on line
15
Strict Standards
: Non-static method PermissionsProxy::get() should not be called statically, assuming $this from incompatible context in
/home4/nerdolog/public_html/projectserv/concrete/models/permissions.php
on line
218
Strict Standards
: Non-static method PermissionsCache::exists() should not be called statically in
/home4/nerdolog/public_html/projectserv/concrete/models/permissions.php
on line
69
Strict Standards
: Non-static method PermissionsCache::getIdentifier() should not be called statically in
/home4/nerdolog/public_html/projectserv/concrete/models/permissions.php
on line
15
Strict Standards
: Non-static method PermissionsCache::getObject() should not be called statically in
/home4/nerdolog/public_html/projectserv/concrete/models/permissions.php
on line
70
Strict Standards
: Non-static method PermissionsCache::getIdentifier() should not be called statically in
/home4/nerdolog/public_html/projectserv/concrete/models/permissions.php
on line
45
Strict Standards
: Non-static method PermissionsCache::add() should not be called statically, assuming $this from incompatible context in
/home4/nerdolog/public_html/projectserv/concrete/models/permissions.php
on line
221
Strict Standards
: Non-static method PermissionsCache::getIdentifier() should not be called statically, assuming $this from incompatible context in
/home4/nerdolog/public_html/projectserv/concrete/models/permissions.php
on line
52
Strict Standards
: Non-static method View::getInstance() should not be called statically, assuming $this from incompatible context in
/home4/nerdolog/public_html/projectserv/concrete/models/page.php
on line
135
Strict Standards
: Non-static method Loader::controller() should not be called statically, assuming $this from incompatible context in
/home4/nerdolog/public_html/projectserv/concrete/libraries/block_view.php
on line
197
Strict Standards
: Non-static method Loader::db() should not be called statically, assuming $this from incompatible context in
/home4/nerdolog/public_html/projectserv/concrete/libraries/block_view.php
on line
28
Strict Standards
: Non-static method Loader::helper() should not be called statically, assuming $this from incompatible context in
/home4/nerdolog/public_html/projectserv/concrete/libraries/controller.php
on line
47
Strict Standards
: Non-static method Object::camelcase() should not be called statically, assuming $this from incompatible context in
/home4/nerdolog/public_html/projectserv/concrete/libraries/loader.php
on line
248
Strict Standards
: Non-static method Cache::get() should not be called statically, assuming $this from incompatible context in
/home4/nerdolog/public_html/projectserv/concrete/libraries/block_view.php
on line
218
Strict Standards
: Non-static method Cache::key() should not be called statically, assuming $this from incompatible context in
/home4/nerdolog/public_html/projectserv/concrete/libraries/cache.php
on line
111
Strict Standards
: Non-static method Cache::getLibrary() should not be called statically, assuming $this from incompatible context in
/home4/nerdolog/public_html/projectserv/concrete/libraries/cache.php
on line
115
Strict Standards
: Non-static method Cache::key() should not be called statically, assuming $this from incompatible context in
/home4/nerdolog/public_html/projectserv/concrete/libraries/cache.php
on line
131
Strict Standards
: Non-static method Loader::db() should not be called statically, assuming $this from incompatible context in
/home4/nerdolog/public_html/projectserv/concrete/models/block.php
on line
511
Hi! My name is Peter Danforth. I am the Director of Operations for Project SERV Inc. a 501(c)(3) not -for-profit organization dedicated the restoration of shellfish in our marine environments. I have always had a keen interest in saving our environment through restoration efforts and I started working on technologies that could do so with shellfish about 5 years ago. My partners and I have have developed methods to restore shellfish to their marine environments through a patent pending procedure referred to as Shellfish Set Trap Systems SSTS.
Through our fundraising efforts we hope to restore shellfish and marine organisms and their natural habitats, provide education and public outreach, provide jobs and promote economic development.
Our current specific fundraising objective is to support the development of our Shellfish Set Trap System (SSTS). The SSTS is an invention designed to restore oyster reefs worldwide.
The Benefits of the SSTS
•Carbon Sequestration– Buffer acidification of ocean rates through increased Calcium carbonate levels.
•Habitat Restoration - More shellfish means more biodiversity through living reef systems leading to…
•Cleaner Waters – A single oyster alone can filter about 50 gallons of water a day.
•Increased Shellfish Landings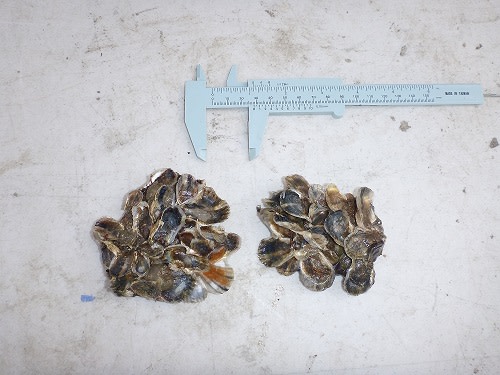 •Coastal Erosion Mitigation – Oyster Reefs are now part of New York States 2100 Commission Report effort to prevent storm surge damage from storms like Superstorm Sandy!
•Home Ownership Values– Clean waters, protected shorelines adds value to home owners with shore front property.
What We Need & What You Get
Our goal for April 2016 is to raise $250,000
$250,000 is the minimum budget to effectively run Project SERV Inc. and its
Please note! There are Bronze, Silver and Gold Memberships:
Gold ($500)
•4 Project SERV T-Shirts (small, medium, large and extra large available)
•Link for your business on our website throughout 2017
Silver ($250)
•2 Project SERV T-Shirts (small, medium, large and extra large available)
•Link for your business on our website throughout 2017
Bronze ($100)
•1 Project SERV T-Shirt (small, medium, large and extra large available)
•Link to your business on our website throughout 2017
The Impact
Your contribution is an investment in the future of our Oceans and a the survival of Shellfish like oysters whose habitats have been decimated by disease, over fishing, and pollution.
Coastal wetland loss is a major environmental problem affecting coastlines worldwide. The causes are complex, ranging from global warming, to working coasts supporting critical infrastructure such as highways, ports, pipelines and navigational waterways of economic significance. Without coastal restoration, people and businesses will be forced to retreat from coastal areas which results in severe economic consequences to various areas.
Coastal erosion refers to land receding along the coastline due to erosion of soil. As humans we have built habitations along the coastline, flooding of these areas present a serious danger to human safety and to property. Coastal erosion results from storms, such as hurricanes, and human activities, such as building on the wetlands and destroying this ecosystem. Global warming has led to rising sea levels, which results in disappearing shorelines
The founders of Project SERV have created a method by which shellfish larvae are grown in large numbers and released in a natural setting, beginning earlier in the season than is typically done. This can take the form of enclosed reef structures; i.e. oyster reefs or clam and scallop swarms where suitable substrate exists. This system mimics and boosts natural systems.
The spawning of shellfish has occurred for 4000 plus years and the methods have not varied much until now.
Our patented technology produces 10 fold more in shellfish numbers at twice the rate then current methods and and focuses on the bio-remediation of reefs and ecosystem restoration as opposed to hatchery food production.
Shellfish have supported civilizations for millenniums from Romans to railroad workers in California in the 1800s. It is theorized that oyster and tuber diet lead to the survival of the human race some 193,000 years ago during along glacial stage known as Marine Isotope Stage 6 (MIS6) where only a few thousand breeding individuals still existed in South Africa. This and the fact that shellfish shells throughout the millenniums have trapped enough atmospheric carbon to allow life as we know it, shows a positive correlation between our survival and shellfish survival.
In 1864 alone, 700 million European flat oysters (Ostrea edulis) were consumed in London, employing up to 120,000 men in Britain to dredge oysters.
Shell piles in the southwest of France contain over 1 trillion shells apiece, underscoring both the productivity of the native species and the scale of harvest.
In the 1870s, inter-tidal reefs of the eastern oyster (Crassostrea virginica) extended for miles along the main axis of the James River in Chesapeake Bay but had largely disappeared by the 1940s.
Native bivalve shellfish provide a variety of ecologically and economically valuable services. As "ecosystem engineers" shellfish influence the environment around them in ways that benefit other species – and therefore benefit people and our economy.
In many places, walls and jetties are built to defend coastlines from erosion; in many places revitalized reefs could provide this protection and offer many additional services as well.
Project SERV Inc, with our patented technology, can provide an environmentally sustainable solution for coastal mitigation issues that are occurring on a world-wide basis!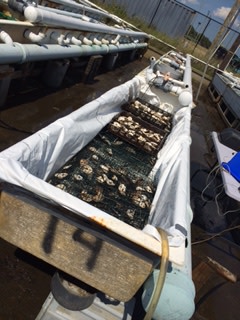 Risks & Challenges
Our greatest risk and challenge is not being able to receive the support we need in order to work properly. Without financial support we can not:
Hire personnel and contractors
Order equipment and supplies for the Shellfish Set Trap Systems,
Pay for insurance, advertising, pay rent and provide maintenance for our facilities.
We are a dedicated group however! We have worked for 5 years on a shoestring budget and have managed to have an office, done two successful proof of concept studies and are currently working with SUNY Southampton to provide Shellfish Set Trap Systems in order to restore oyster reefs on the south shore of Long Island in 2016!
Strict Standards
: Non-static method Cache::set() should not be called statically, assuming $this from incompatible context in
/home4/nerdolog/public_html/projectserv/concrete/libraries/block_view.php
on line
303
Strict Standards
: Non-static method Cache::key() should not be called statically, assuming $this from incompatible context in
/home4/nerdolog/public_html/projectserv/concrete/libraries/cache.php
on line
95
Strict Standards
: Non-static method Cache::getLibrary() should not be called statically, assuming $this from incompatible context in
/home4/nerdolog/public_html/projectserv/concrete/libraries/cache.php
on line
97
Strict Standards
: Non-static method Cache::key() should not be called statically, assuming $this from incompatible context in
/home4/nerdolog/public_html/projectserv/concrete/libraries/cache.php
on line
101
Strict Standards
: Non-static method View::getInstance() should not be called statically, assuming $this from incompatible context in
/home4/nerdolog/public_html/projectserv/concrete/models/page.php
on line
135
Strict Standards
: Non-static method Loader::element() should not be called statically, assuming $this from incompatible context in
/home4/nerdolog/public_html/projectserv/concrete/libraries/block_view.php
on line
57
Strict Standards
: Non-static method Loader::db() should not be called statically, assuming $this from incompatible context in
/home4/nerdolog/public_html/projectserv/concrete/models/collection.php
on line
424
Strict Standards
: Non-static method View::getInstance() should not be called statically, assuming $this from incompatible context in
/home4/nerdolog/public_html/projectserv/concrete/models/page.php
on line
135